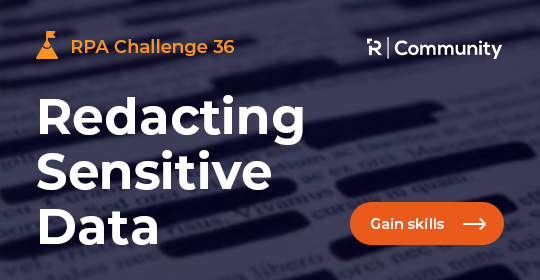 Hello again and welcome back!
I would like to invite you to join to our challenges after summer!

Let's keep practicing together and building better and stronger robots!
This new challenge is associated with documents, using regex and a little document understanding.
We have this document (contract) General_Contracting.pdf (84.0 KB)
And the purpose
of today's robot is help us to find a sensitive data and hide them


We take as a sensitive data: names, emails, bank account numbers, phone numbers, sums of money, …


For those who want it more complex, take addresses and signatures as well

HINTS:
– names: if there are two words following each other with each word is capital letter, this may be name
– dates: we expect to be things like dd.MM.yyyy or else dd/MM/yy etc …
How to participate?
Simply send me your code and don't forget to support/challenge other participants a bit - you can post your processed documents do the comments section.
First three correct, original solvers earn 3 robopoints, next get 1 robopoint.
I will hold a leaderboard with your score and update it.
The challenge deadline is 25. 9. by the end of the day. You can still submit your projects after the deadline but you cannot earn robopoints. A new challenge is published every 2 weeks so don't worry if you did not catch this one. Keep in mind, your submitted files may be published after the deadline so others can learn from solutions.
Looking forward to your solution