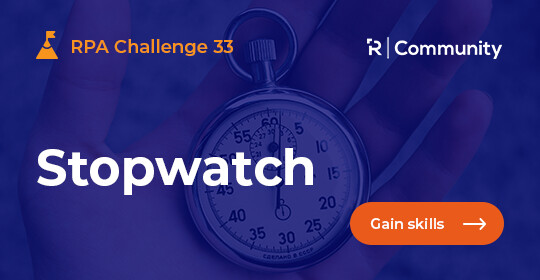 Hello everybody!
I have a new useful challenge for you

This time you can:
explore more unknown activites or grouping of activities in UiPath
help yourself with this bot to monitor for example your time of working, …. Or different kind of activities.
And what is this practice about?
It is pretty simple
Choose your own keyboard shortcuts for start, pause and stop

When the specific shortcut is used – stopwatch will start, pause, stop

Let the user know which shotcuts to use


Super useful is to let the user know about status (running, paused)

Available are cool UiPath activities with colours



Create it that way to start and pause whenever you want to

When the stop shortcut is used display elapsed duration.
And that is pretty much it
How to participate?
When your process is running smoothly
send me your code to a private message

comment down bellow if and what new did you learn or find with this challenge
First three correct, original solvers earn +3 robopoints, next get +1 robopoint.
I will hold a leaderboard with your score and update it.
Challenge deadline is 19.6. by the end of the day. You can still submit your projects after the deadline but you cannot earn robopoints. New challenge is published every week or 2 weeks so don't worry if you did not catch this one. Keep in mind, your submitted files may be published after the deadline so others can learn from solutions.
So that is all from me.
(Of course - hints are available. Just let me know)
I wish you have fun and happy automation!